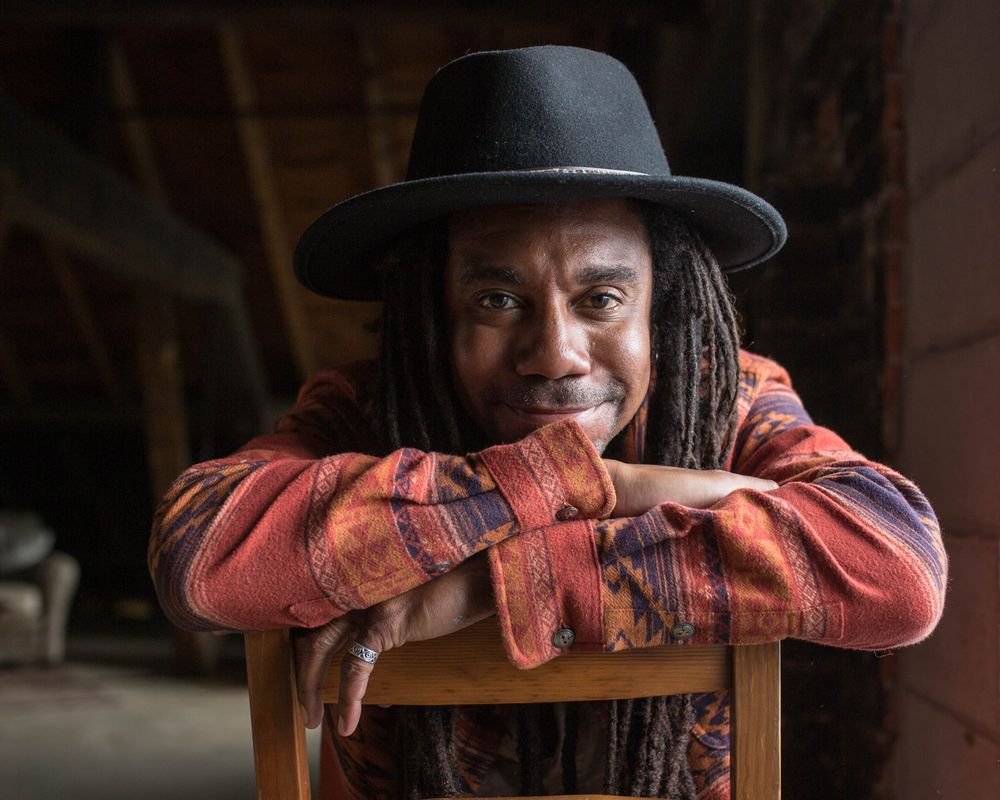 After 25 years in music, building an unimpeachable reputation as a truly independent artist and entrepreneur, Julian Taylor now owns his legacy. From the formative rock of Staggered Crossing to the genre fusion of Julian Taylor Band, and now his revered work as a solo singer-songwriter, Julian owns the right to it all and it couldn't have happened at a better time. 
It's rare in this era to see an artist build slowly and reach a new level of widespread acclaim two decades into their career. But Julian's ethos, work ethic, and artistry has always had a timeless quality to it. And so, he's built things slowly in a DIY fashion, withstanding highs and lows along the way, ultimately reaching the peak of his powers with his latest solo work. Fans and critics have noticed, granting Julian the Solo Artist of the Year honour at the Canadian Folk Music Awards (and nomination in the English Songwriter category), plus two Juno Award nominations in 2021, as well as a Polaris Music Prize nomination.  
Growing up in Toronto on a combination of soul music, hip-hop, blues, and Americana along with '90s alternative, Julian was still a teenager when he co-founded the alt-rock band Staggered Crossing in 1996. Within three years, the band signed a publishing deal with industry icon Frank Davies  and a record deal with a major label, Warner Music Canada. 
Staggered Crossing's self-titled debut album was released in 2001 and instantly earned Julian his first hit song. "Further Again," was one of the most played songs on Canadian rock radio in the early 2000s and remains a signature tune of the era in Julian's home country. It, along with second single "A Million Works of Art," established Julian and Staggered Crossing as rock artists with infectious pop sensibilities. 
"It was a really cool experience touring and having the whole juggernaut working for us. And we had management, we had a publisher, we had a record company, we had an agent, and off to the races we went — and we were pretty young," Julian says now.  But the early 2000s were a turbulent time for the music business and things veered into a different direction for Staggered Crossing despite early major label success. 
The band parted ways with their label after the release of their first album, Julian founded Bent Penny Records to release Staggered Crossing's next album — developing his DIY, entrepreneurial muscles that have carried him throughout his career ever since. 
"I didn't really know what to do, so I started to learn how to operate throughout the business and became not only a musician, but a business person and a label guy," he says. 
Staggered Crossing's sophomore record, Last Summer When We Were Famous, was released in 2002. It was produced by late multi-instrumentalist Jay Bennett, whose band, Wilco, has had a lasting influence on Julian. 
"I think that the most cohesive and most interesting Staggered Crossing record to listen to was probably Last Summer When We Were Famous. It's a cool grunge record; it's a little punky," he adds. 
The Staggered Crossing's third and final LP was 2004's Burgundy & Blue. "It was kind of an amalgamation of the previous two albums. I was finally getting quite good at producing and also quite good at the business side of music," Julian recalls. "I was doing radio promotion, as well, for the band. I called every radio station in Canada every week. Jeremy [Elliot, drummer,] was the tour manager, Dan [Black, bassist,] was trying to do press, and Dave [Marshall, guitarist] was doing finances. So, we all learned how to do the whole business together. In fact, one of the songs on that record, 'Perfect Prize,' I ended up getting it into the top-20 on Canadian radio by myself as a radio plugger. It was the highest-charting independent  rock song of the year in 2005, which not a lot of people know." 
In 2007 Staggered Crossing split up, leaving Julian and the rest of the band feeling burnt out and fed up with the music business. "We needed to sort of try to save each other's lives. Unfortunately, it didn't completely work. We lost one member down the road. I think everybody was pretty depressed and beat up by the music industry, so some people just decided that they would do other things, and we all really did," Julian says. 
For Julian, that meant stepping back completely from commercial music and working a bunch of bar gigs. At one bar, Dora Keogh in Toronto's Danforth neighbourhood, Julian started an open stage night that fostered a close-knit music community in the city. It became a regular drop-in spot for well-known Canadian artists like Kim Mitchell, Big Sugar, Ron Hynes, and even international bands coming through the city on tour."I think that, for me, it did save my life. It gave me a newfound perspective and love for music later on," Julian says of these years away from the music industry. 
Following the dissolution of Staggered Crossing, many of the songs Julian had left from those years appeared on two low-key solo releases, Black Tape Levy and Absence of the Sun. The former is not available on streaming services but now that Julian owns all his songs, he's considering making it available. "I may just release it under the name Blank Tape Levy because it sounds so different from 'Julian Taylor.' It sounds more like Staggered Crossing," he explains, while Absence of the Sun is an interesting preview of the acoustic sound that would propel him to greater stardom years later. 
Meanwhile, during his under-the-radar years — working bars, running the open stage, and playing in a covers band — Julian was crafting the new songs that would form his first big post-Staggered Crossing release, 2014's Tech Noir by the Julian Taylor Band. The eponymous band name wasn't necessarily intentional for the new project (it's the name they used when playing covers at weddings and such), but when the song "Never Gonna Give You Up" leaked out and became a radio hit, they were stuck with it. 
Tech Noir was a hit with fans and critics and established the band's sound — a skillful merging of rock and roll, funk, pop, and R&B. For proof of Julian Taylor Band's irresistibly infectious sound, and Julian's ability at writing a great pop hook when he wants, just listen to "Why Would You Do That." 
The second LP from Julian Taylor Band, Desert Star, was released in 2015 on Aporia Records. "We wanted a little bit more recognition at the time," Julian says. "I really try hard to make the first song and the last song all stand out. I don't like any throwaway stuff…. and for Desert Star to come out with 22 songs and there not to be a real throwaway on it. Maybe some people would disagree, but most people actually don't. They say that this is a solid record from start to finish… I wouldn't say that it's flawless, because that's not true, but it's just a really great effort." 
When Tech Noir and Desert Star were surprisingly left out of the Juno Awards nominations (Canada's version of the Grammy or Brit Awards), Julian felt it was because the band's sound was hard to categorize. As such, when writing and recording 2019's standout album, Avalanche, his focus was on making a cohesive, consistent record. "I like jumping around a lot, so Avalanche was the first real time I said, 'I'm gonna try to really focus and just stay in one lane as best as I can.'" 
After all, from his earliest demos in the late '90s through Staggered Crossing and Julian Taylor Band, acoustic songs were featured throughout and every song began with Julian writing on an acoustic guitar or piano. And Avalanche, in many ways, is the first in a trilogy of deeply-personal roots albums. "'Sweeter' is a lot of people's favourite song at live shows. Once you get into that record, sonically it sounds really cool because it's a live band playing. That, as well, is happening more than the next two records," he says. 
That brings us to the big breakout — 2020's The Ridge. Though written and recorded before the pandemic, it was the balm for the soul that so many needed that year. Through the most personal songwriting and soulful singing of his career, Julian found a whole new audience that fell in love with him. Really, it's rare for an artist to have a major critical and commercial breakthrough two decades into their professional career, but then again, it's also rare to make an album that resonates with listeners like The Ridge did. It earned Julian his first two Juno Award nominations (Indigenous Artist or Group of the Year and Contemporary Roots Album of the Year), along with a Canadian Folk Music Awards for Solo Artist and nomination for English Songwriter of the Year, five Native American Music Award nominations, plus a nomination for Canada's most prestigious music accolade, the Polaris Music Prize . 
"I was making up for lost time," he said simply when talking to the CBC in 2021 after receiving the Juno Award nominations.    
Beyond the Reservoir 
With The Ridge's live-off-the-floor production style and stripped back instrumentation, Taylor's warm voice illuminated the autobiographical lyrics. Going deeper into the personal stories first touched on with Avalanche, Taylor revisited his childhood summers on his grandparents' farm in Maple Ridge, British Columbia, as well as themes of family, personal loss, and growth. Now, on his latest album, Beyond the Reservoir, he explores the next chapter in his life.  
Beyond the Reservoir is an album that addresses identity, loss, sadness, hope, and redemption. The themes of resilience, courage, and strength are prevalent in every carefully-chosen lyric. It contains a gentle spiritual thread that runs throughout the album touching on each of the elements like fire, water, air, and earth as they relate to humanity. It is a coming-of-age story and a beautifully-orchestrated successor to The Ridge. 
On Beyond the Reservoir, Taylor continues to mine his personal story and identity as a Black man of Mohawk and West Indian roots in a white world and music scene. And yet, with music that knows the perfect balance between sparse and complex, along with the thoughtful directness of his words, which are sung in his distinctive warm and trustworthy voice, Taylor's songs resonate with nearly everyone who listens closely. 
"The ultimate goal for me is just to put out the best work I possibly can. If people respond to it in that way, then that's beautiful. I'm only trying to open the doors for other people like myself," he says.  
The country and the city, rural and urban — these poles have competed for Julian's affection and identity throughout his life. Their respective influences have been heard his whole career, beginning with the rock of Staggered Crossing, the genre-fusion of Julian Taylor Band, and now in the soul-folk of The Ridge and Beyond the Reservoir.    
In writing the nine new songs for Beyond the Reservoir, "I went backwards in time to pick things out again, as well as meet things head on from an identity standpoint," he explains. 
The St. Clair Reservoir, alluded to in the album title, is where Julian ended up. 
"The reservoir, for me, symbolizes a lot of things. Water helps seeds grow when you plant them. I come from two cultures that are still here. I think about that feeling of growth, of identity, of healing, and water symbolizes a lot of that. At the same time, so too the other elements — earth, wind, and fire. All of them play heavily in this record at some point. There are some really sad moments, some really in-depth moments, and some really hopeful moments in this record. It's a conversation piece, like The Ridge was," Julian says. 
"When I became a teenager, I didn't want to be Black, and I didn't want to be First Nations. I almost wanted to be white. I just didn't want anything to do with my family and I rebelled against my family and did things that weren't so great for me, health wise and mentally. But that's okay, I got out of it," he says candidly. "So, the reservoir is a real place where we would all congregate when I was teenager for a long time for park parties. And when the police used to come, they used to zero me out all the time, and chase me. I got 13 stitches in the back of my head from somebody smashing me with a bottle and things like that. So, it's a bit darker. But the other thing about a reservoir is that it's a stagnant body of water. It's not flowing. So, 'beyond the reservoir' meant the river that keeps going." 
Looking at the wider world, too, Taylor notes that he wasn't afraid to take a few punches this time around, such as on the tune "Stolen Lands." "I take stabs at Woody Guthrie. I don't know if people are going to like that in the folk world, but maybe I don't really care," he asserts. He's alluding to a line in one song that amends a classic Guthrie lyric to be, "This land is your land/This land is my land/This land was made for you and me/Poor choice of words by Woody Guthrie," and, later in the song, adds "this land was built on slavery." 
Beyond the Reservoir also includes two co-writes, including one crediting Taylor's friend, the poet Robert Priest. "He just said some things to me that really stuck when we were going back and forth on email. I just said, 'Oh wow, these words are pretty cool; can I use them?" So, there you go," he laughs. 
The other co-write with his old friend Andre Flack and together they wrote "Murder 13," about a mutual friend who was murdered. "I had been trying to write the song since 2005 and I just couldn't do it. But he and I knew the guy, so it was easier for the two of us to deal with it head on," Taylor shares. "You can imagine how hard that was to write." 
Identify, loss, struggle, heartbreak, they're all themes explored on Beyond the Reservoir. But despite those themes, the album also has its share of up-tempo moments. "It's almost as if the next chapter of my life gets put into the next record. So, if The Ridge was my childhood, it's almost like the next phase is adolescence and young adulthood into the now. It is interesting in that regard." 
With his characteristic warmth and charisma, which has enthralled audiences for years, we should all be grateful that Julian Taylor is back, his music is like a long hug, for this time of reconnection. The Ridge has eased the loneliness of the last two years, and now Beyond the Reservoir will help us reunite. Music that is deeply human has that special power.  
 More Interesting Facts about Julian 
·  After selling his first company, Bent Penny Records, Julian launched a new company Howling Turtle Inc., which currently manages all his business. The first releases on Howling Turtle were JTB's "Hey Hey Two Two" single and the Tech Noir LP. 
·  He currently hosts the radio program Julian Taylor's Jukebox, which is syndicated on radio stations across Canada. Learn more at linktr.ee/thejukebox 
·  In his own words, "I think I've done everything that I can think of in the business. I've been a booking agent, I've been a writer, I've been a producer, and I've even been a live sound engineer and when I ran an open stage for 10 years. I've written songs, published songs, done radio promotion, done publicity, done all the admin — done it all that I can think of. I haven't seen a movie or written a score yet, though, or a book." There's always something to work towards. 
·  He performed at the 2002 and 2010 Winter Olympics 
·  Julian and his Staggered Crossing bandmates had a role in amending Canada's bankruptcy law to the benefit of musicians and other curators and intellectual rights holders. Staggered Crossing were one of the bands affected by Song Corporation's bankruptcy in May 2001. At the time in Canada, the law was that when a company went out of business, it could use and sell unpublished works as an asset to pay off its debt. With the support of Bumstead Management and lawyer Peter Steinmetz, Staggered Crossing argued in court that ownership of unpublished compositions should revert back to the composers. The case reached the Supreme Court of Canada, which ultimately ruled in their favour and to the benefit of all artists. The now-revised law also applies to demo recordings, lyrics, and lead sheets. 
Praise for Julian Taylor:   
"An album so lyrically and sonically rich that it feels like a balm for these jarring times… On The Ridge, there's no genre-hopping. It's an Americana record, yes, but that label alone feels reductive. It takes the listener on an emotional journey, full of highs and lows, and the mixture of joy and sadness brought by memories of lost loved ones. From the opening title track to the closer, "Ola, Let's Dance," the album's production, vocals, and acoustic instrumentation wraps you in a warm hug. If 'comfort' could be its own genre, then that is where The Ridge falls." – Canadian Musician magazine 
"Julian's warm strong vocal is decorated by stirring poetic lyrics, a honey-drenched melody that's simply delivered with expertise. Easily a tune to be replayed." – Americana Highways 
"'The Ridge' is a warm and rolling folk song, showcasing Taylor's incredibly rich baritone to perfection and is an ideal first step into an album that is all about family links, people and humanity." – Americana UK 
"Lyrically, Taylor brilliantly displays the months he spent outside of his more urban school-year home. The seasons shared with his sister working on the farm are definitive to his identity. 'The Ridge' exudes innocence." – American Songwriter